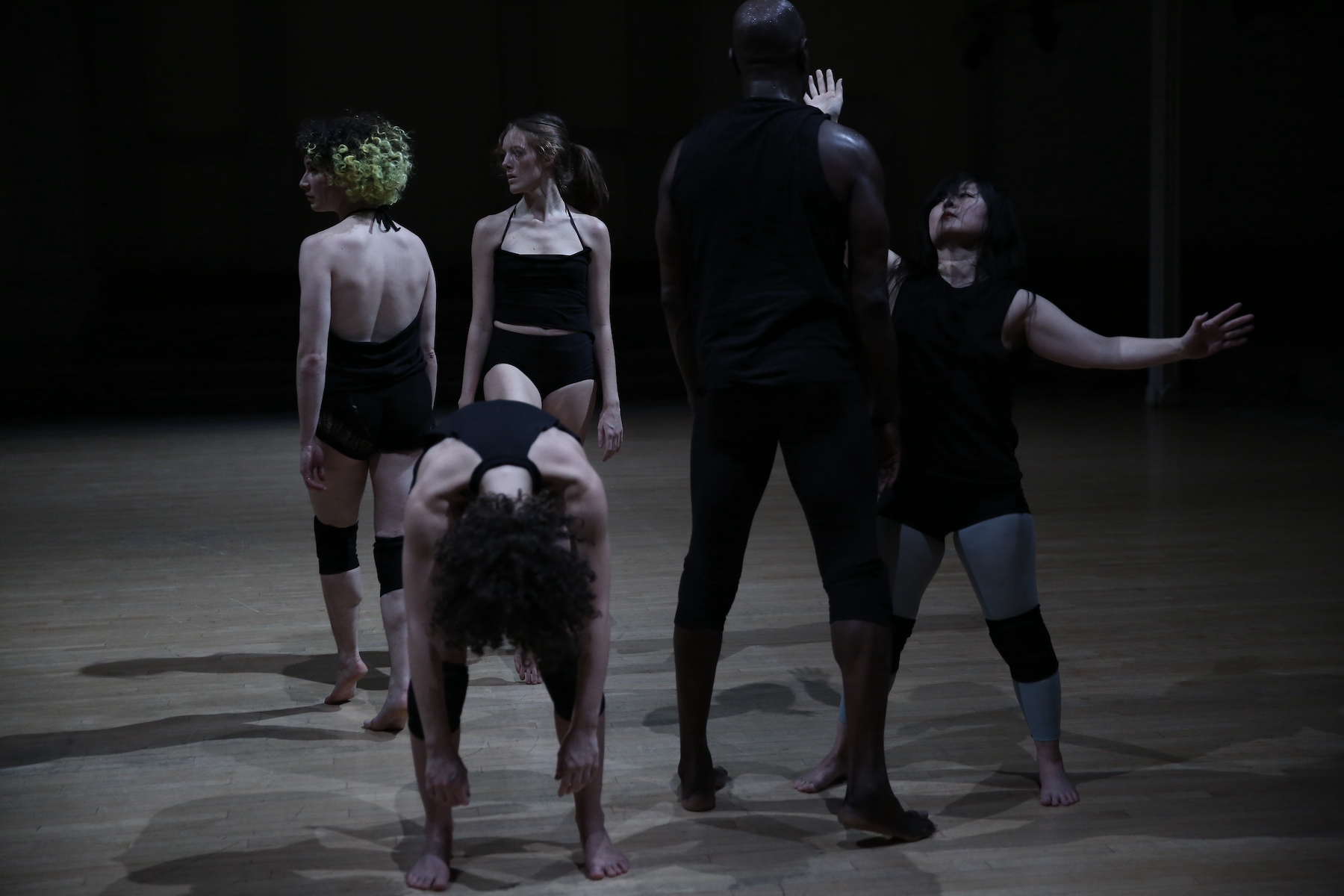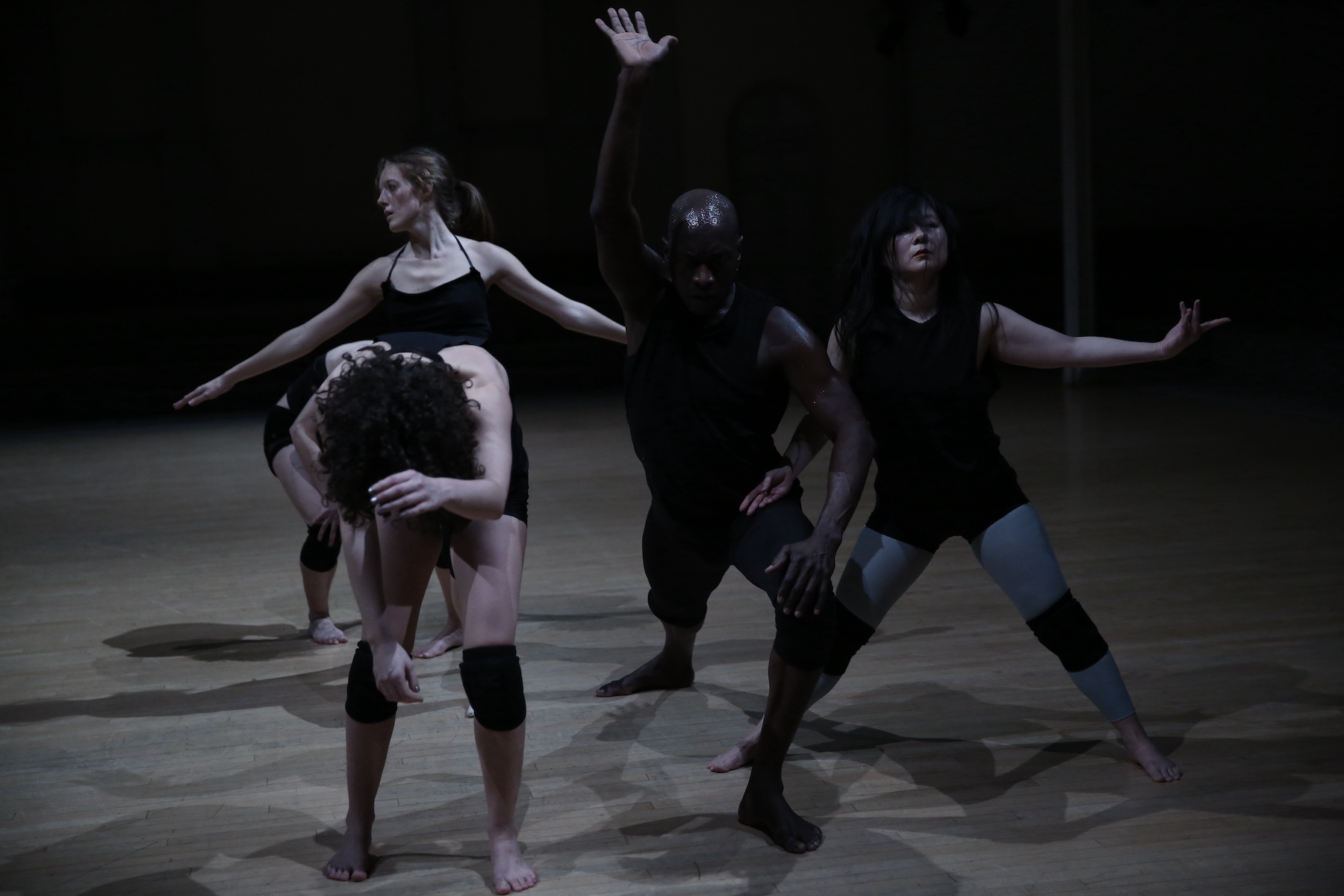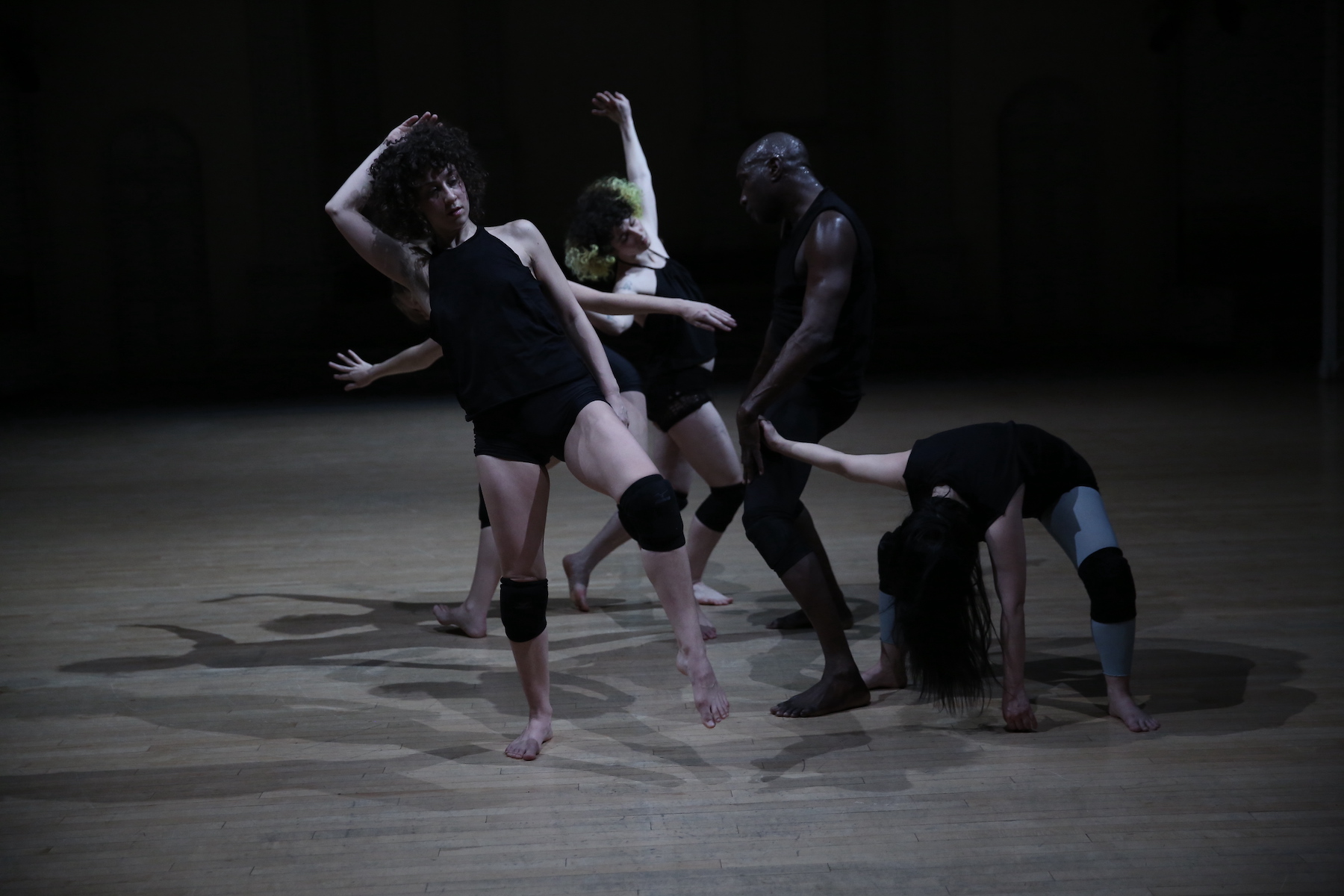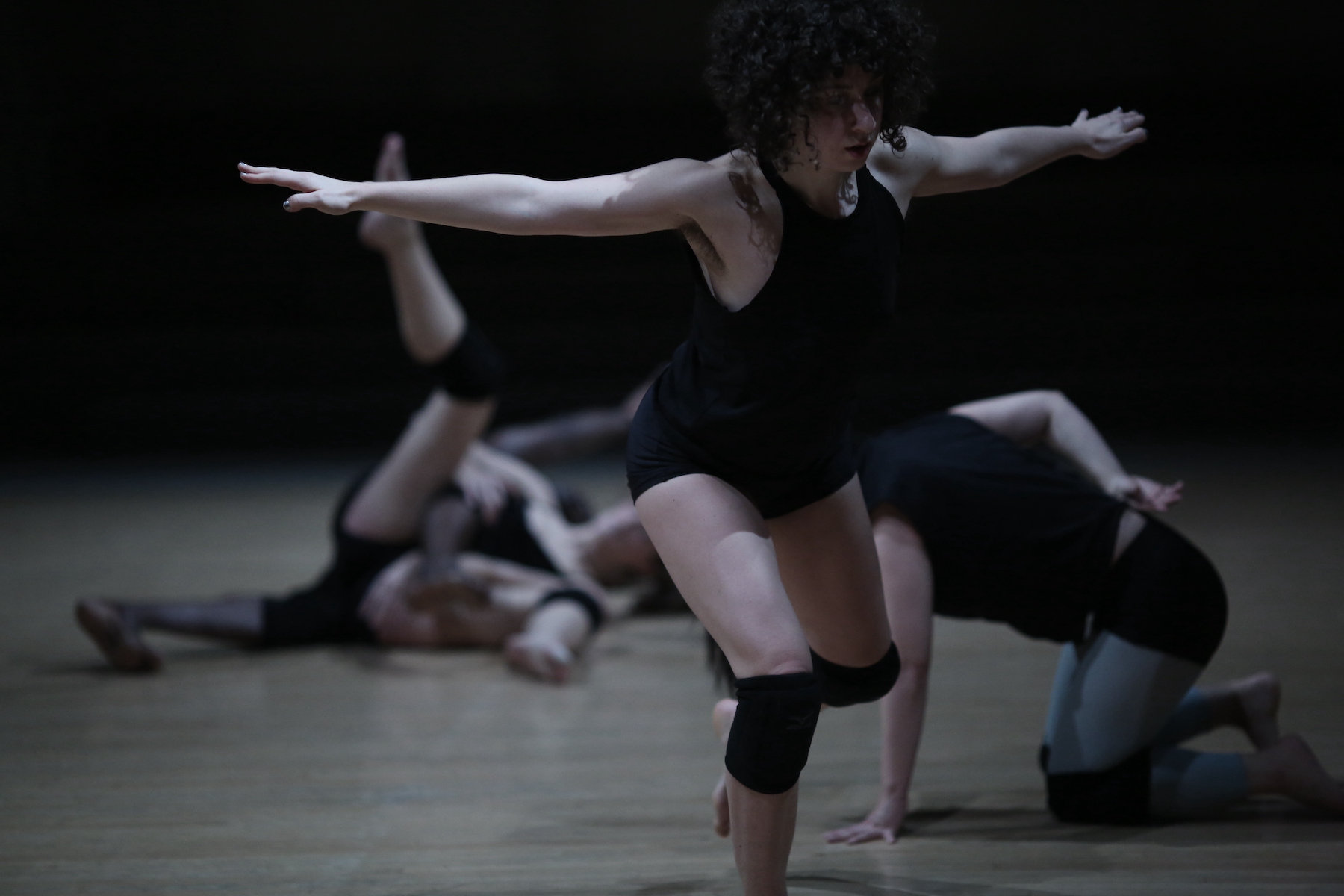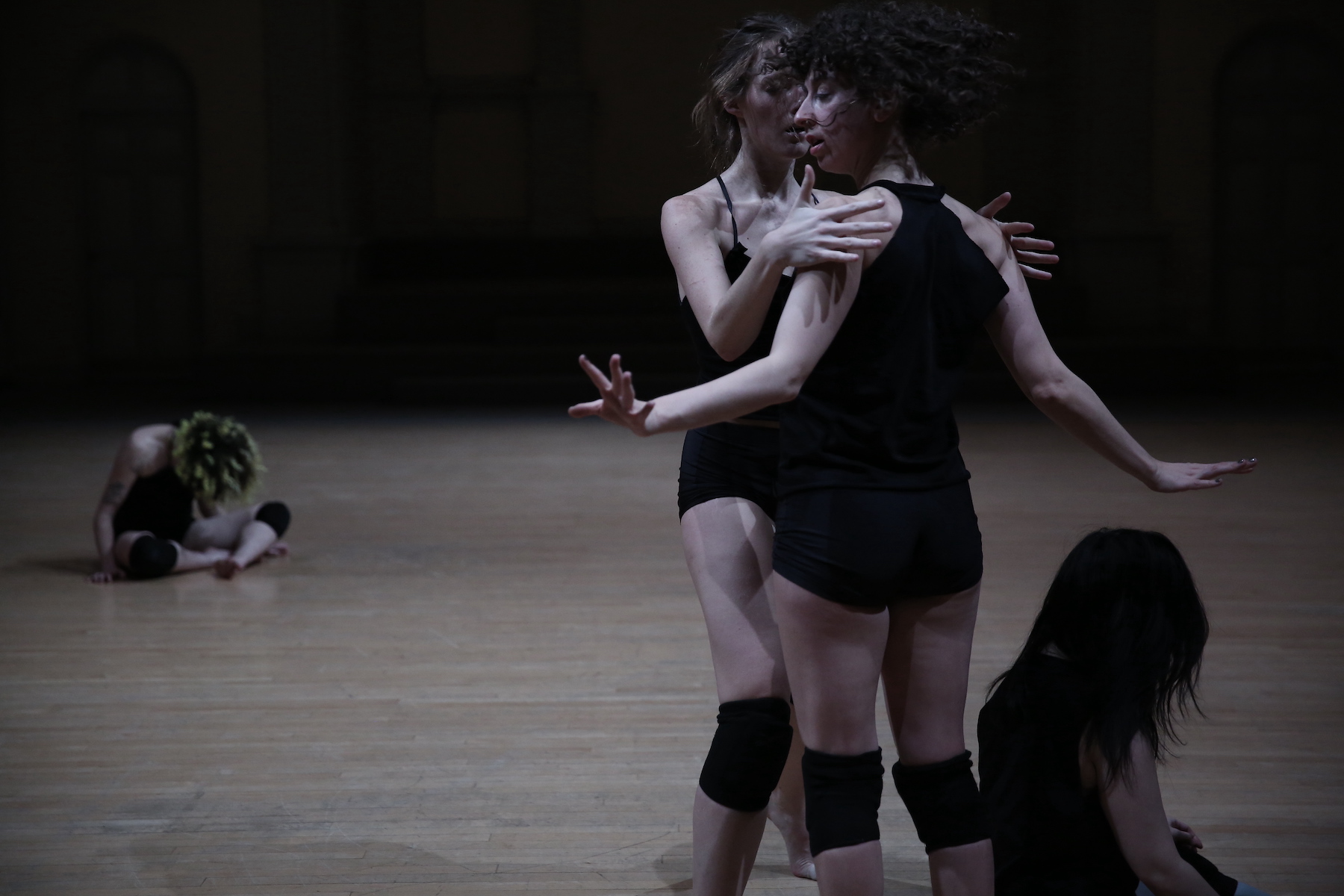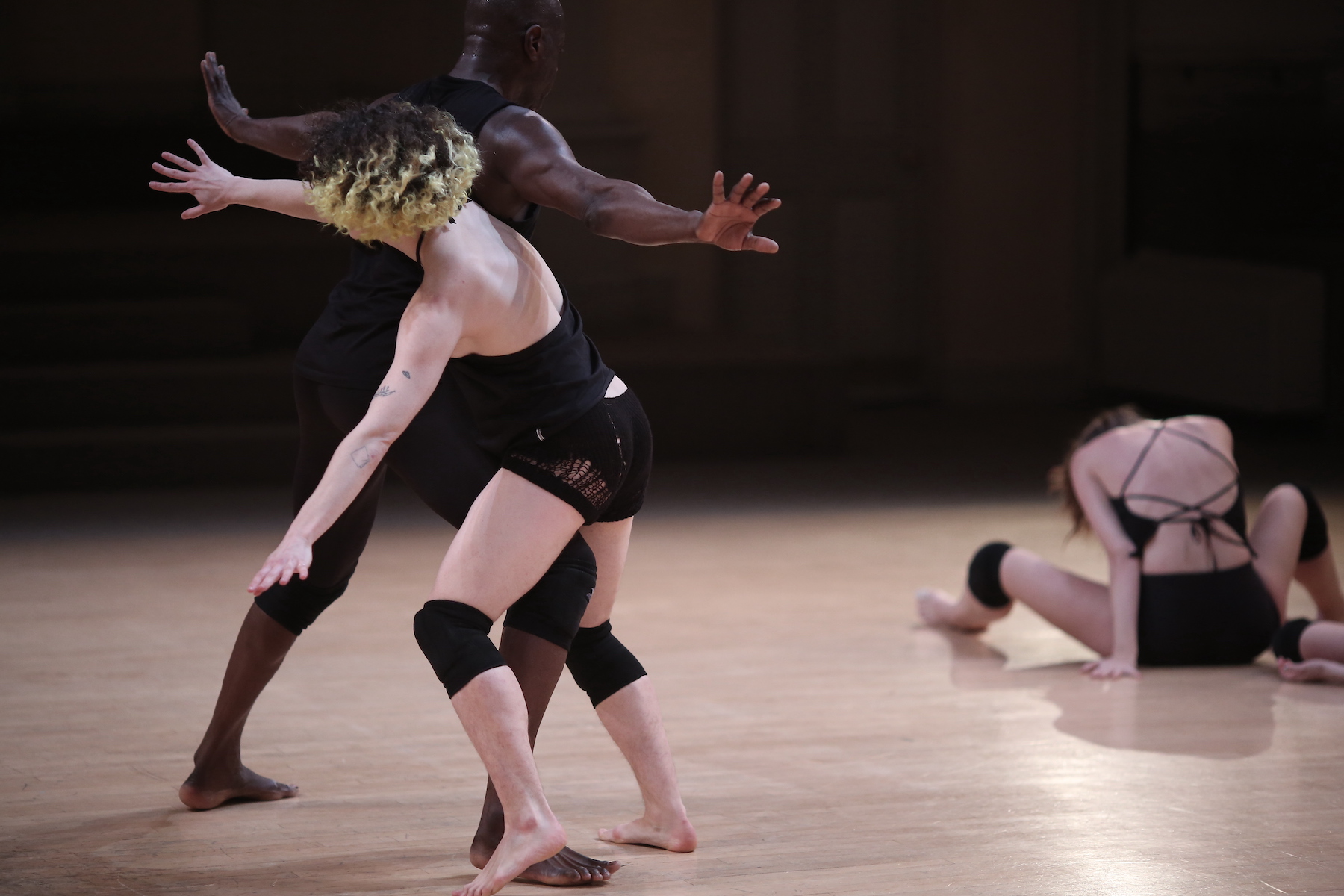 Strange Engagements, 2020, Danspace Project, New York

photographs: ©Paula Court



Strange Engagements is a highly physical, exuberant, and uninhibited work made for, and in collaboration with, an extraordinary group of dancers: Laurel Atwell, Talya Epstein, Paul Hamilton, Sam Kim, and Rainey White. Constructed from the dancers' improvisations — research in which Ring asked them to act as a conduit channeling complex shared rhythms and inner music — this work is driven from within.

The dancers plunge into private combinations, often with separate agendas, while flashes of form and pattern illuminate the deliberateness of the polyrhythmic chaos. Like Ring's X (2010), which premiered 10 years ago at Danspace Project, Strange Engagements is deeply musical, yet danced almost completely in silence — its unheard anthem loud and driving. The thrill of Strange Engagements is in watching the performers navigate its considerable performative demands. This dance is monstrously intricate.

Danspace Project, January 30 - February 1, 2020

Lighting Design: Kathy Kaufman
Costumes: Melinda Ring

Review - Dance Enthusiast
Preview - New York Times Instagram
21 Questions about Strange Engagements
Video - Excerpt

Funding Credits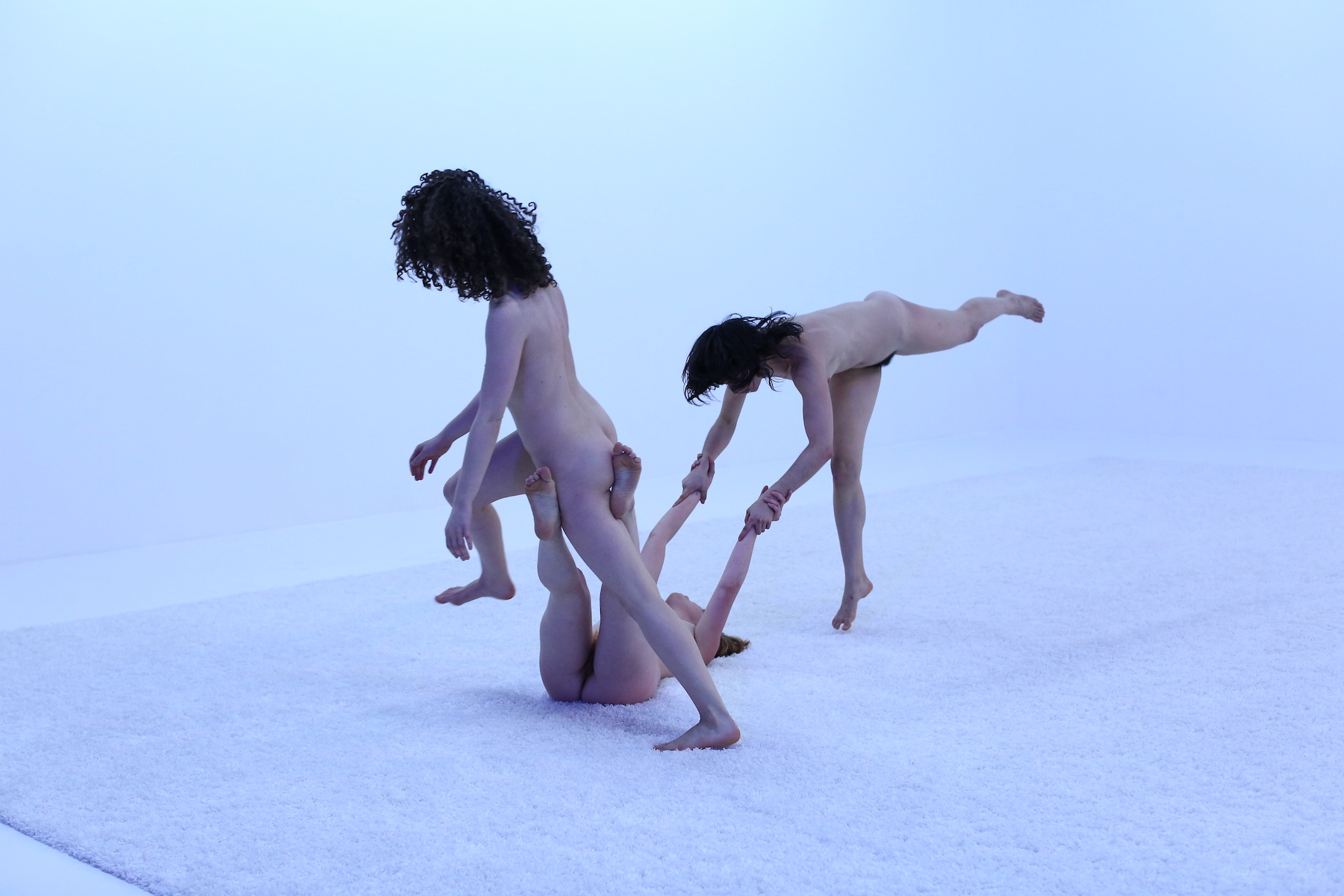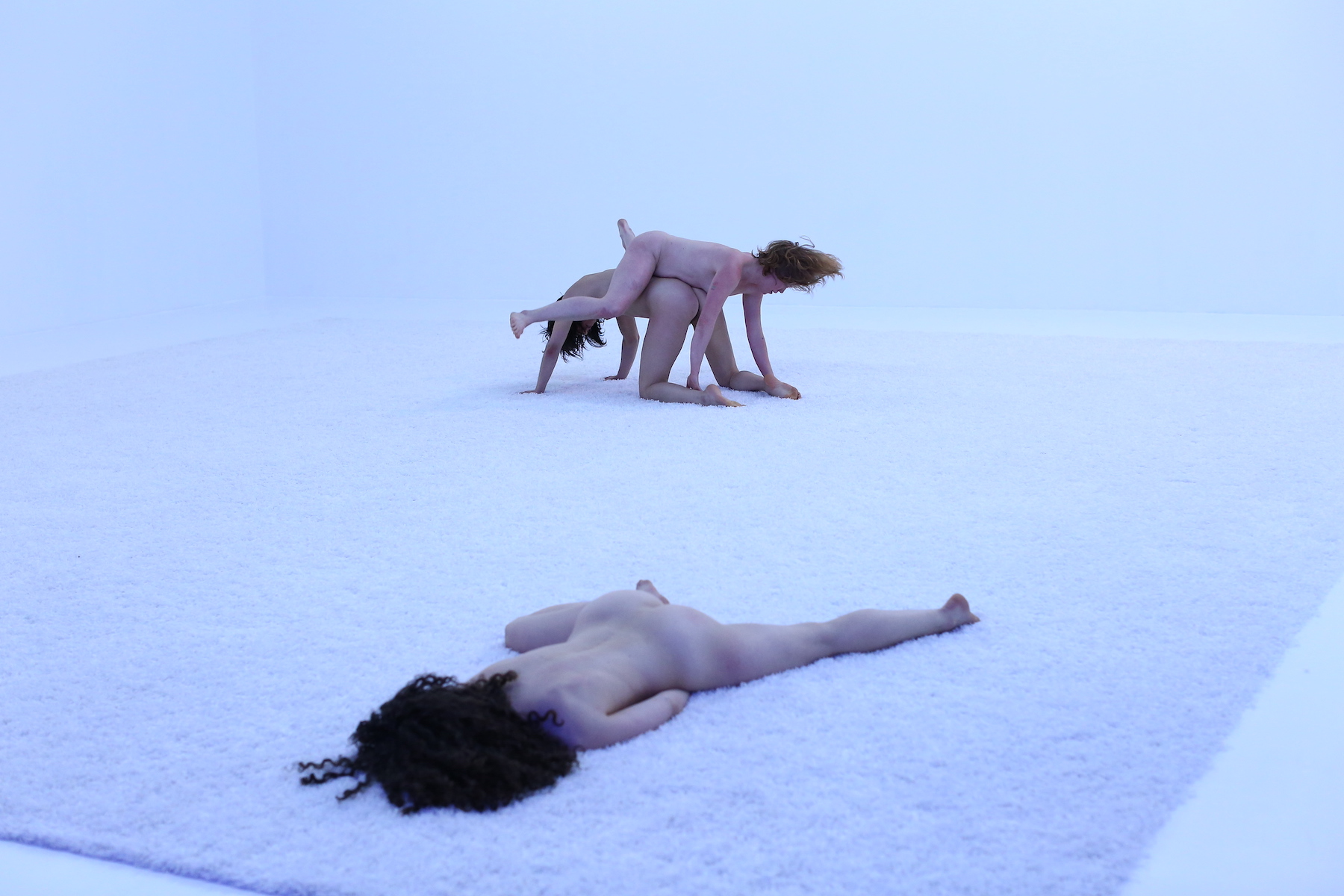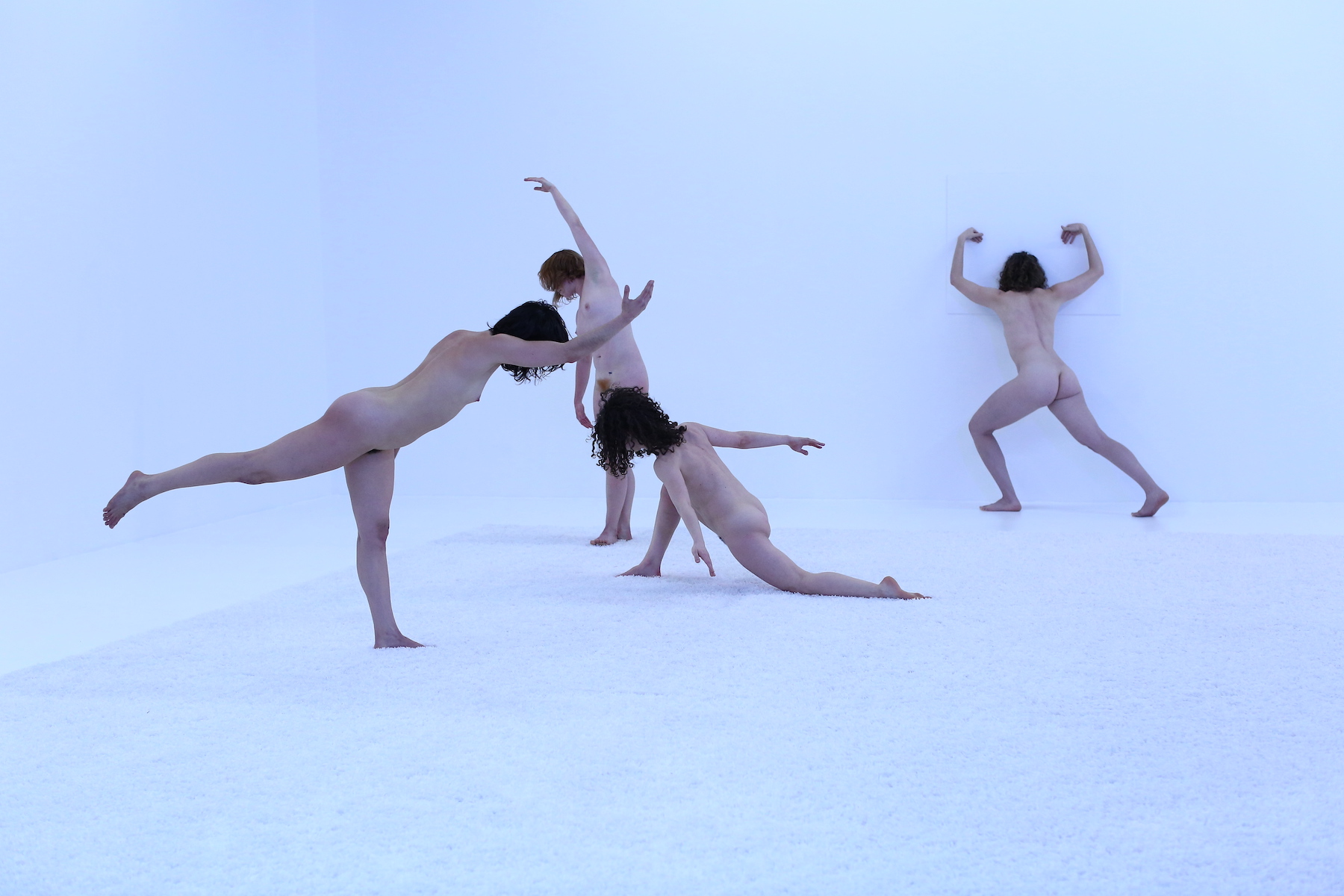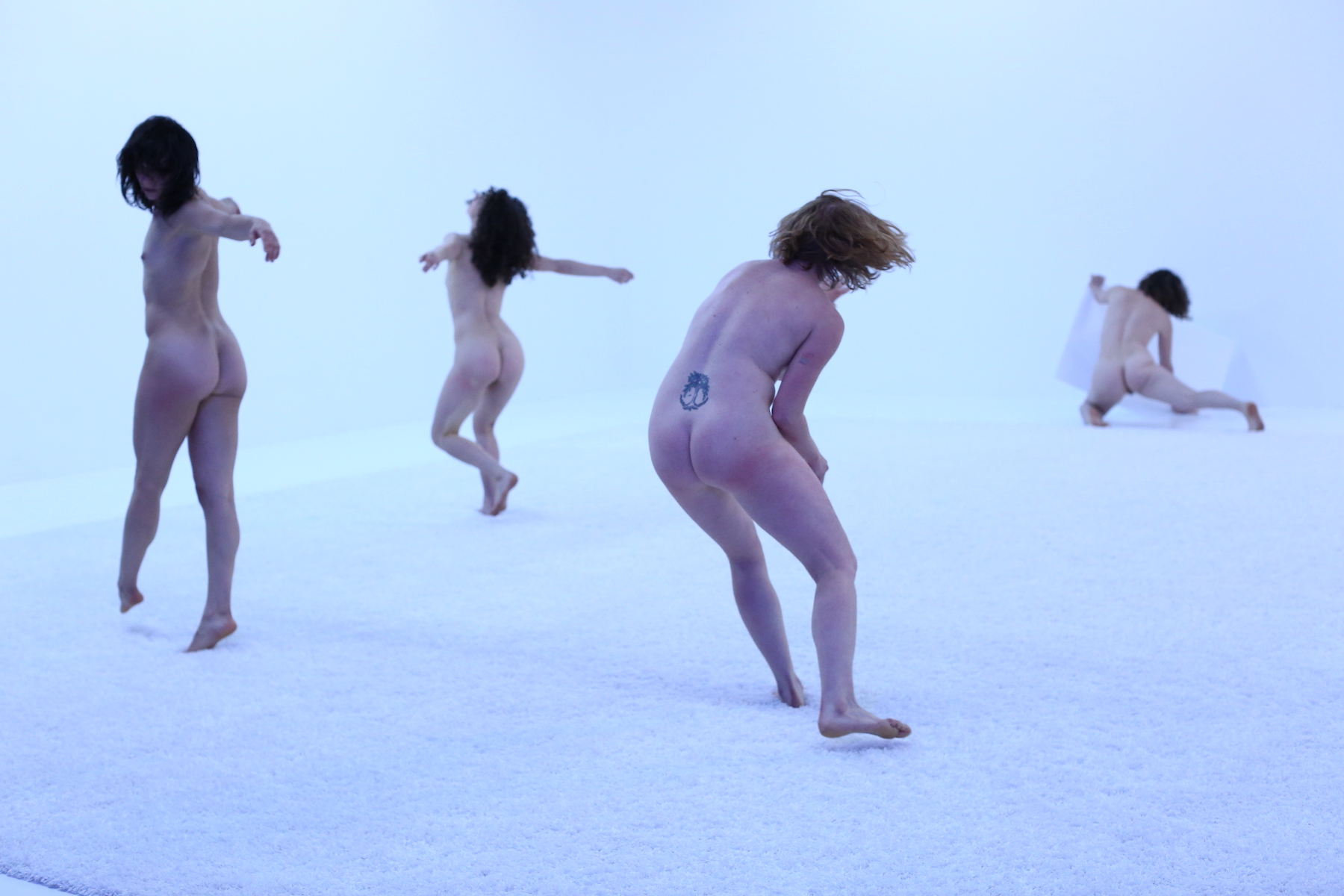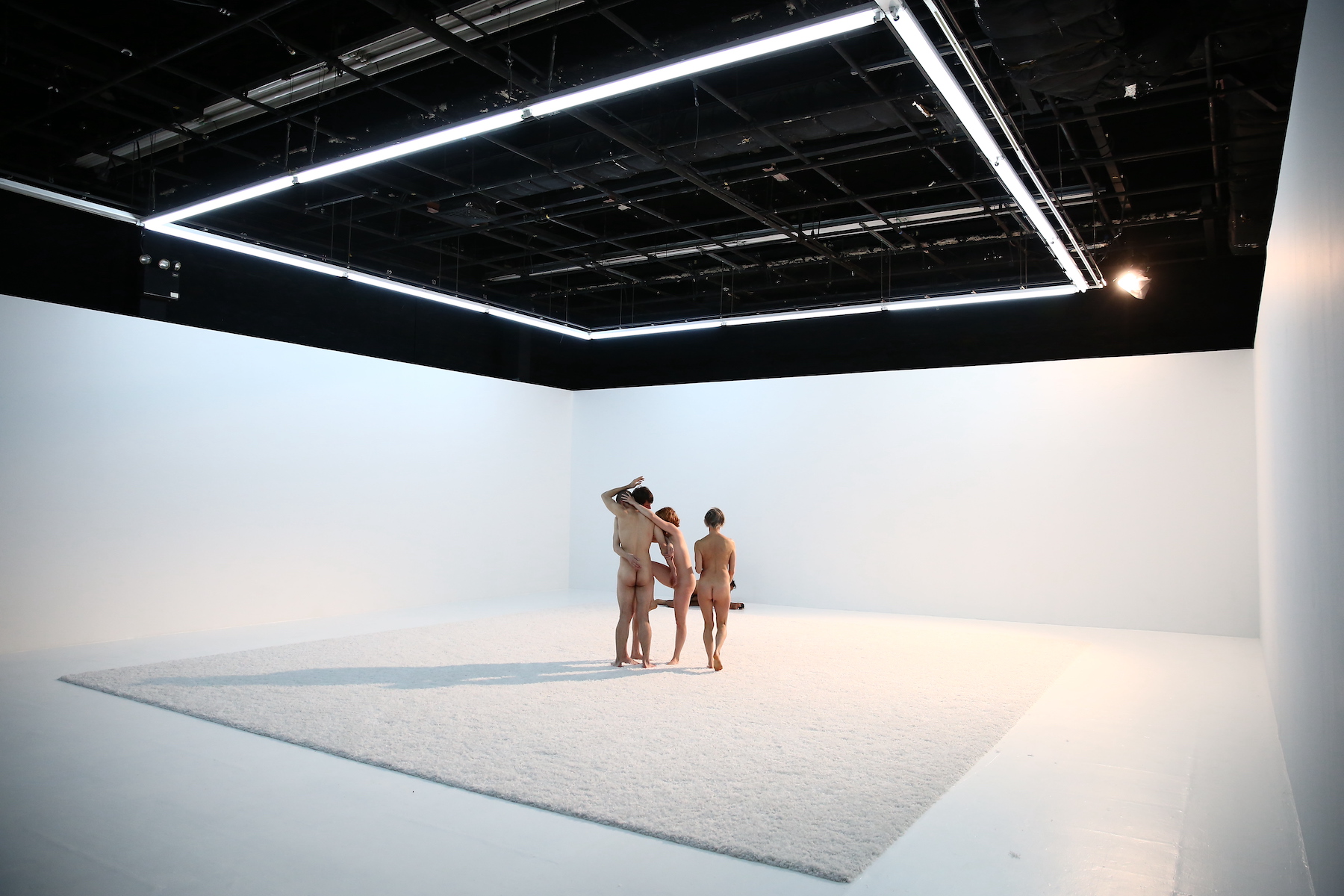 Forgetful Snow, The Landscape, 2014, The Kitchen, New York
photographs: © Paula Court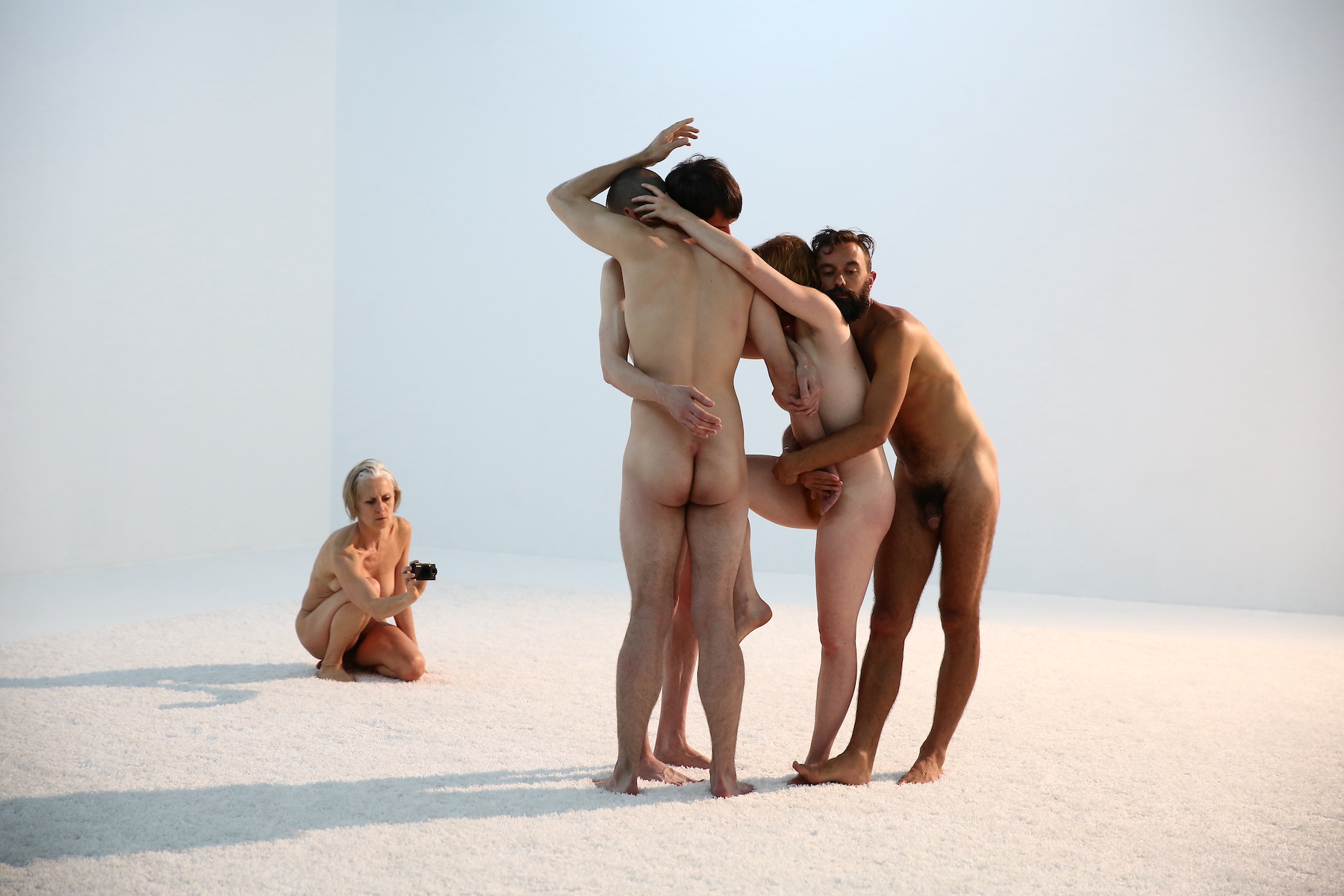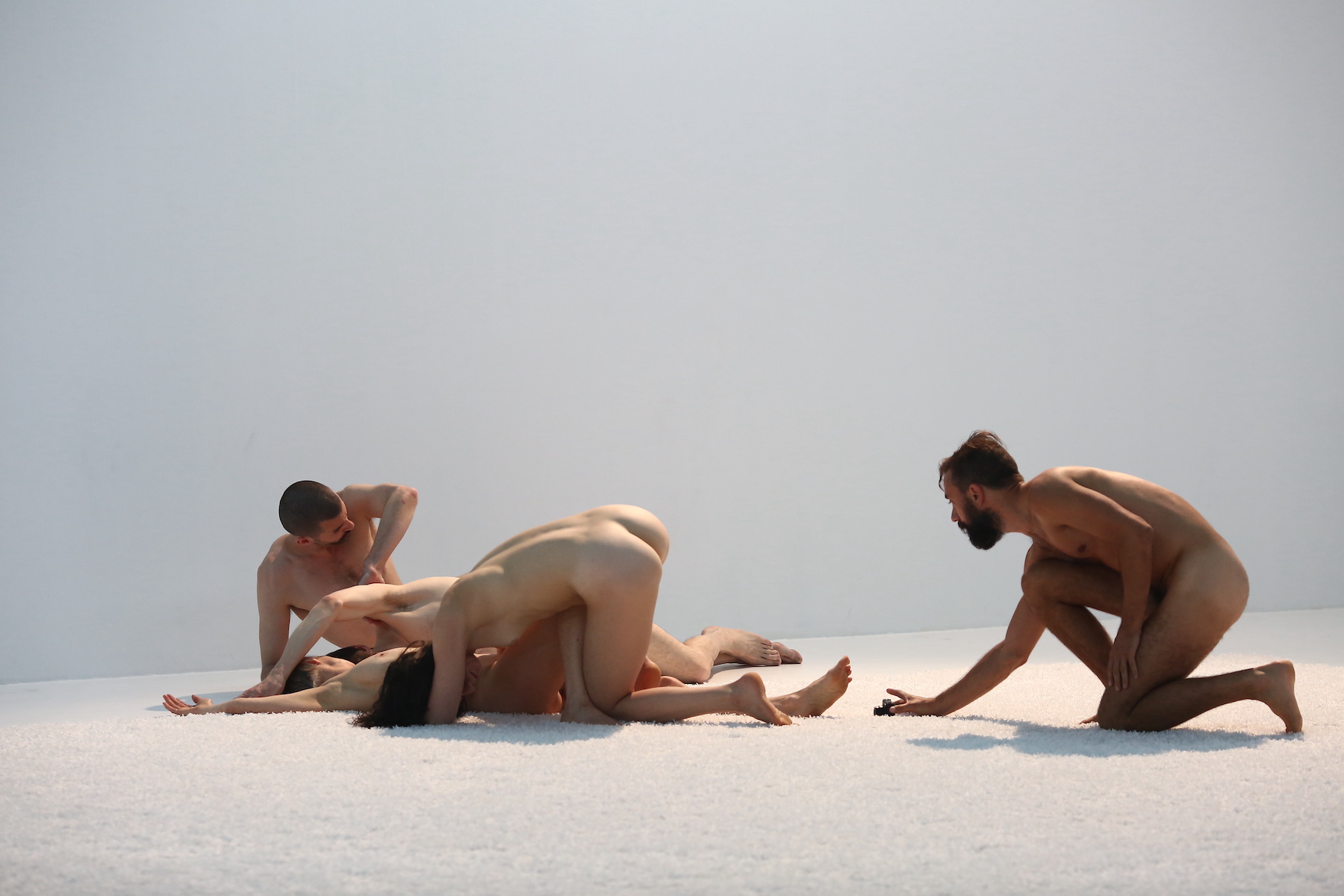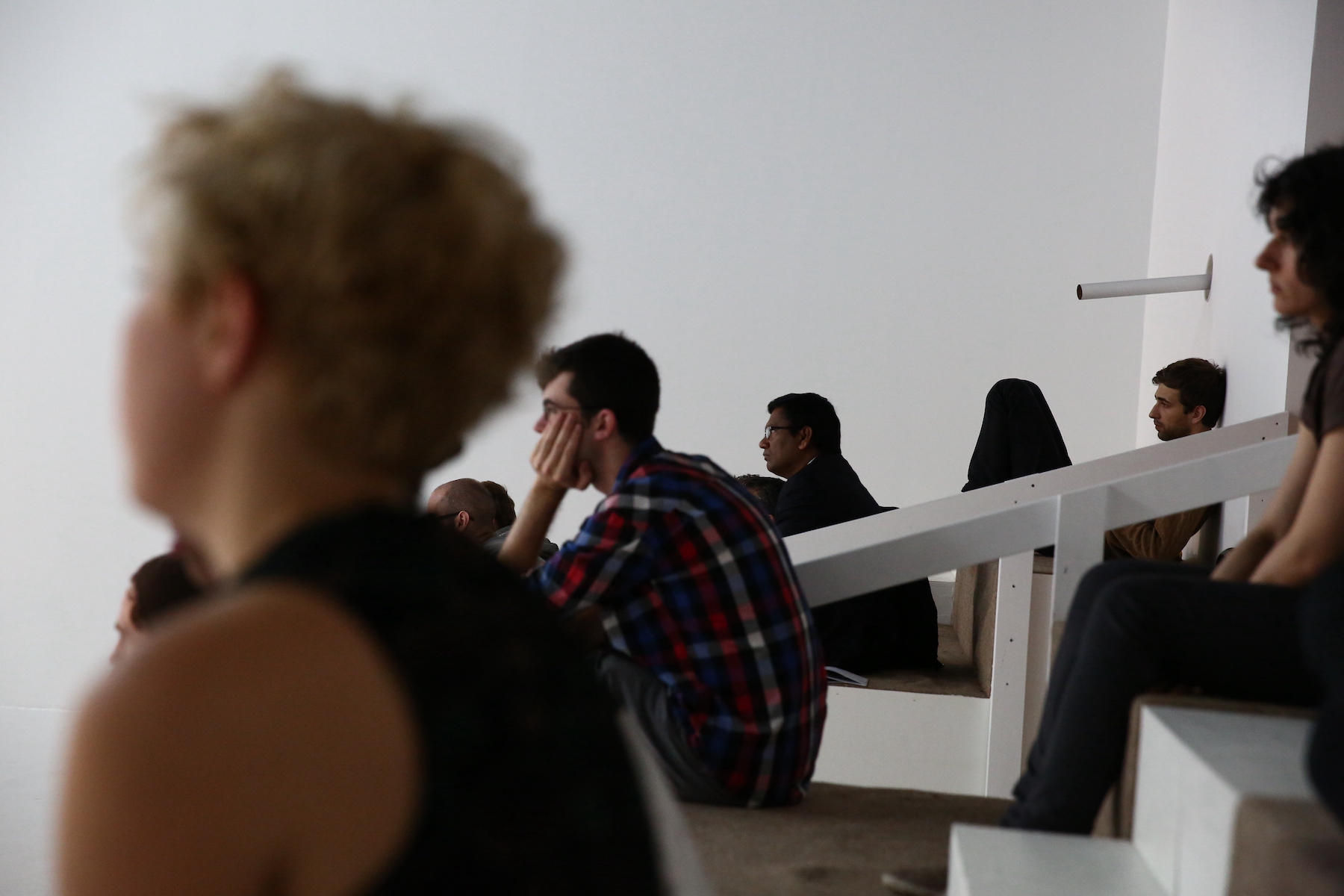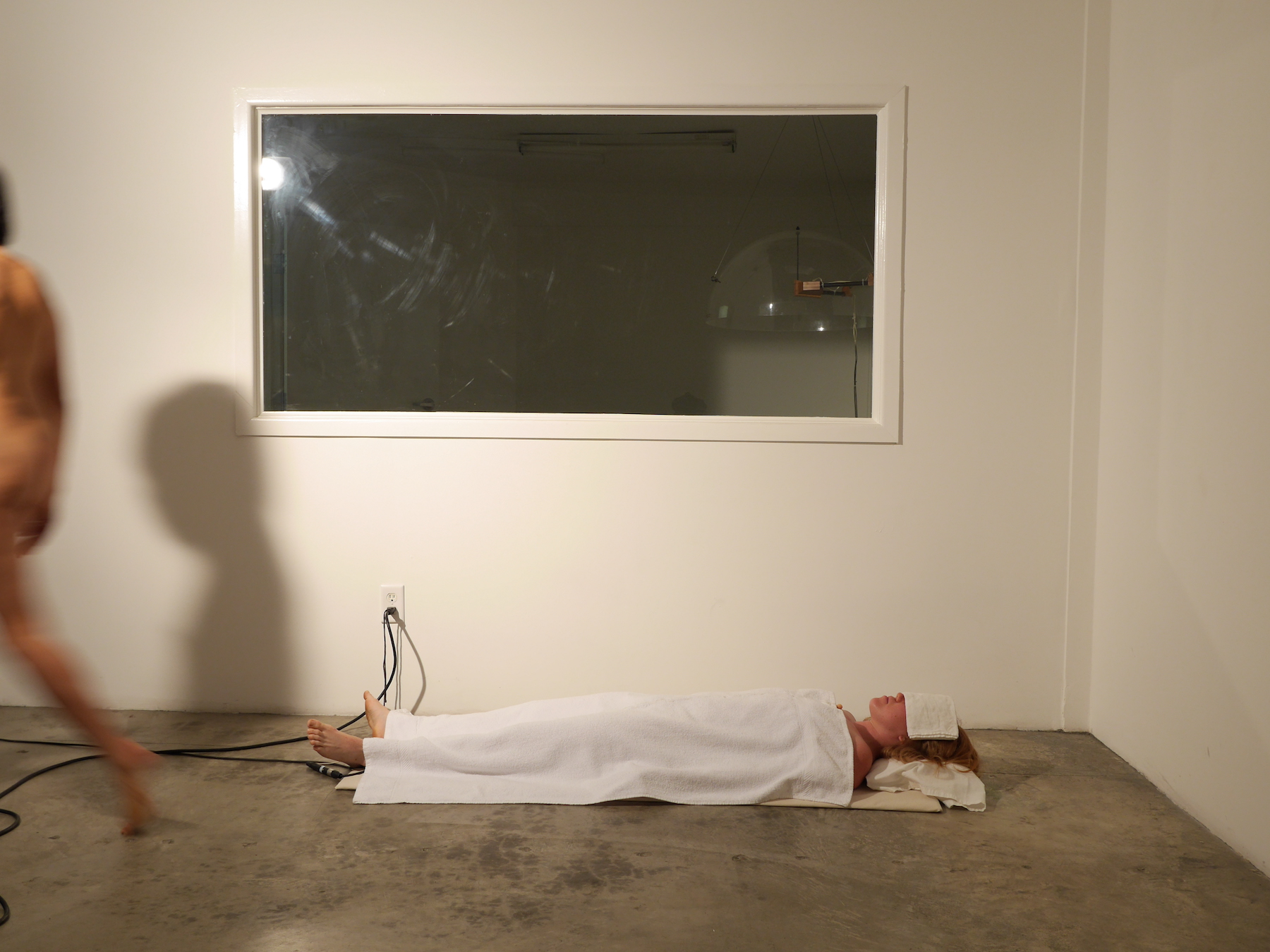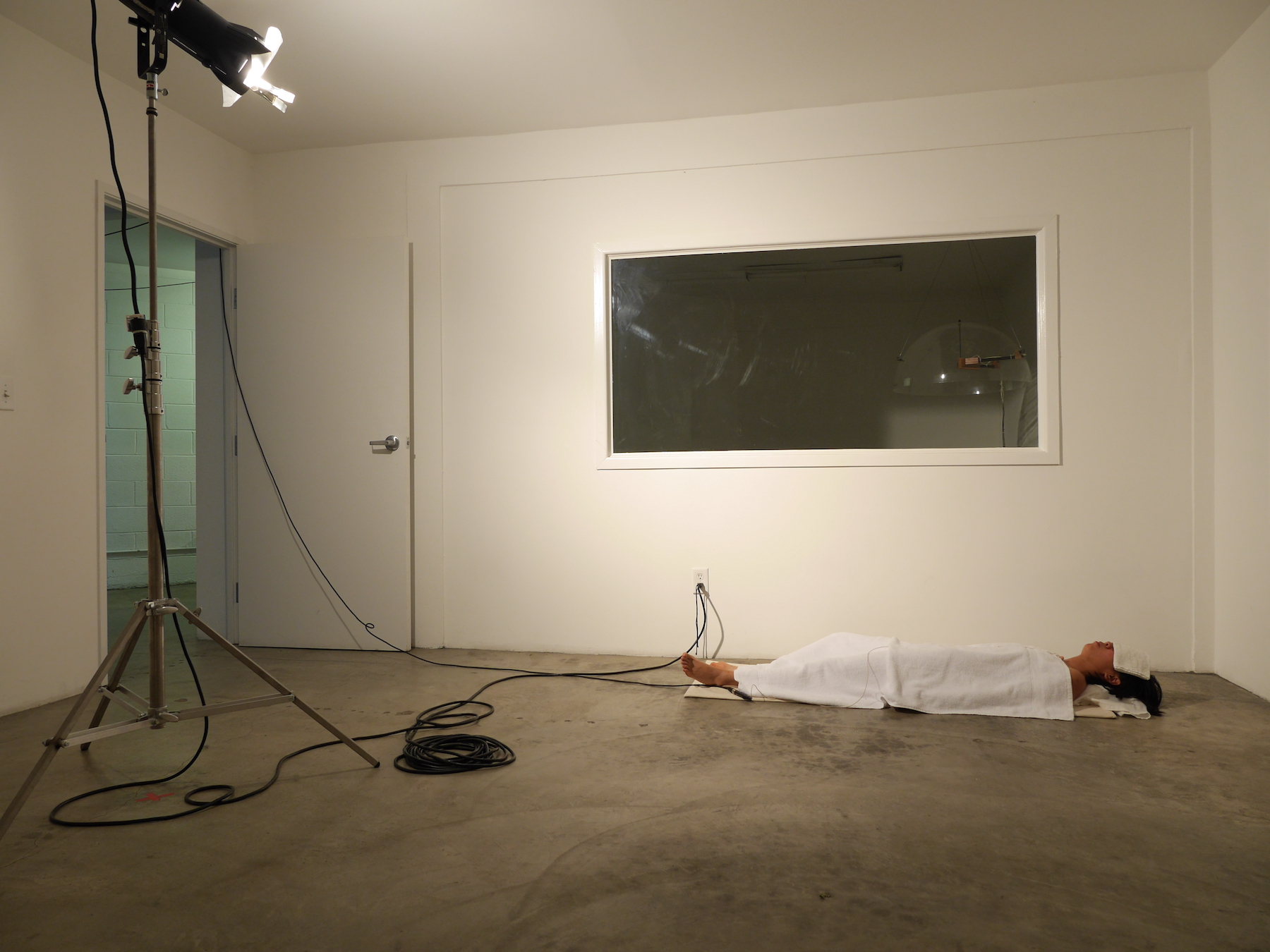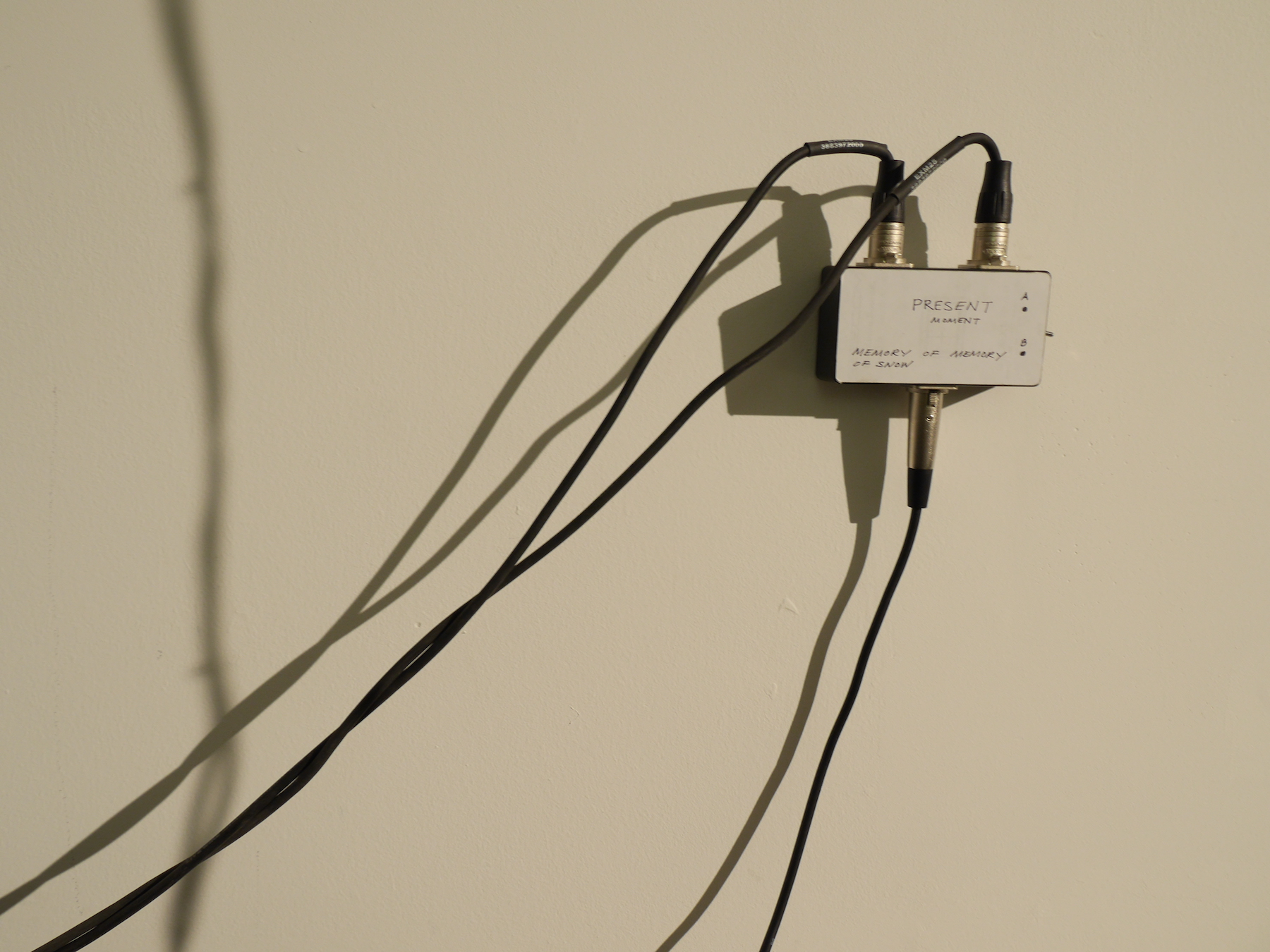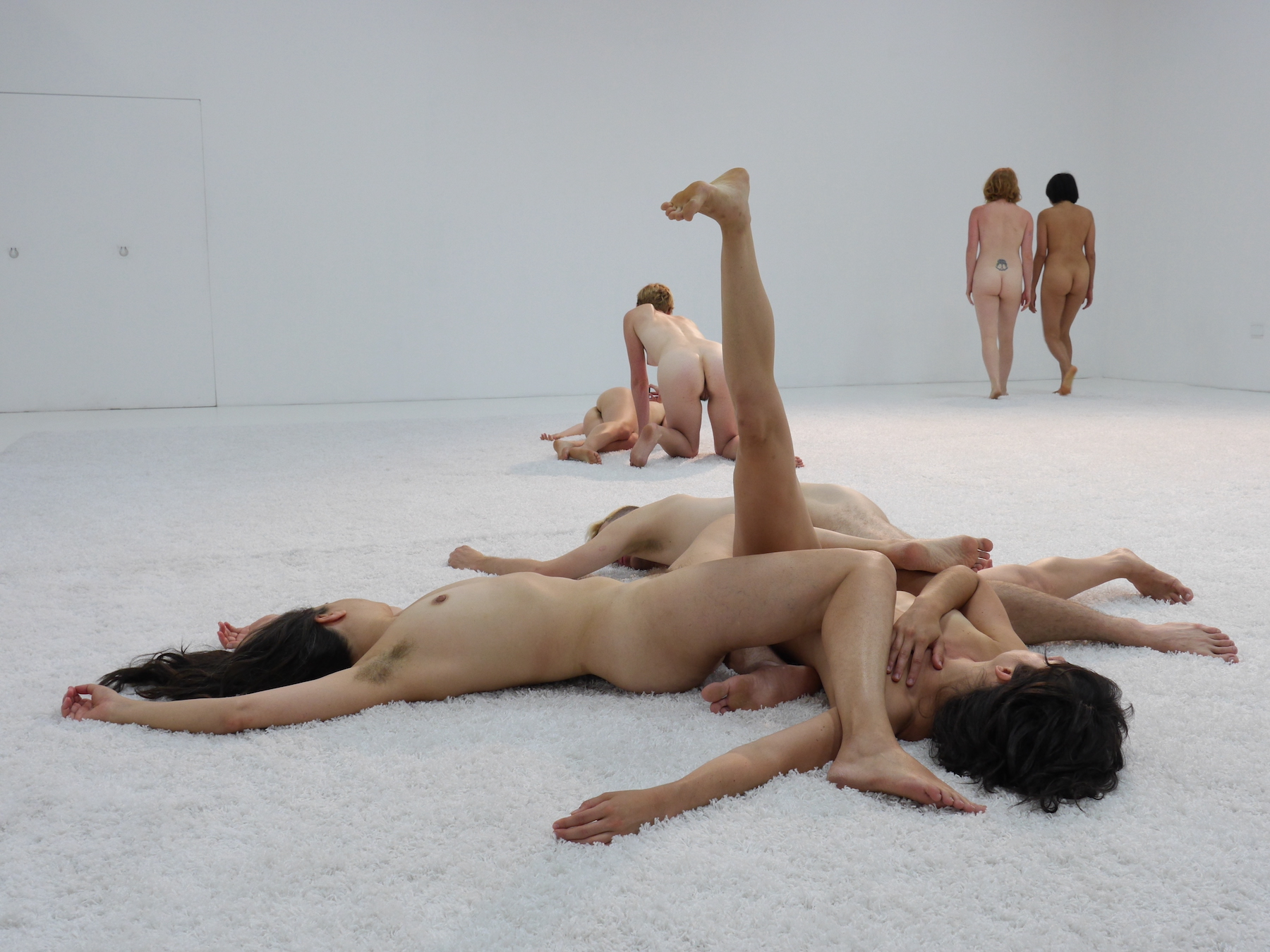 Forgetful Snow, 2014, The Box, Los Angeles

photographs: Naotaka Hiro


Forgetful Snow

A triptych composed of two durational performances and an evening-length dance, Forgetful Snow investigates the transcendent possibilities of body and mind. By day, performers in the installations The Landscape and Memory (of Snow) Machine labor at searching for landscapes, retrieving lost moments of time and archiving the accumulating results. These simple tasks involving the body, video, and language are quietly focused and mysterious. In the evening, the dance is performed without clothing and accompaniment to strip it of layered-on meaning and emotion. Presented instead is an intimate and formally complex choreography with elusive performative demands and textures.

Choreography and concept: Melinda Ring, in collaboration with Talya Epstein, Maggie Jones and Molly Lieber

The Kitchen, May 8–17, 2014
Curator: Matthew Lyons

The dance
Performers: Lorene Bouboushian, Talya Epstein, Maggie Jones, Molly Lieber

The Landscape and Memory (of Snow) Machine
Performers: Lorene Bouboushian, Talya Epstein, Luke George, Federico Hewson, K.J. Holmes, Maggie Jones, Macklin Kowal, Molly Lieber

The Box, July 11–20, 2014
Curator, Mara McCarthy

The dance
Performers: Lorene Bouboushian, Talya Epstein, Maggie Jones, Molly Lieber

The Landscape and Memory (of Snow) Machine
Lorene Bouboushian, Dorothy Dubrule, Talya Epstein, Maggie Jones, Jmy James Kidd, Molly Lieber, Jos McKain, Betty Nguyen, Melinda Ring, Allison Wyper

Lighting Design: Paul Clay
Video Consultant: Howard Silver
Audio Consultant: Paul Chavez

Chapbook - Contact Quarterly
excerpt - White On White, Melinda Buckwalter
Review - New York Times
Preview - Bomb Magazine
Preview - Art in America
Video - Rehearsal Clip

Forgetful Snow Reading (viewing) List:
Oscar Niemeyer: Architecte de Brasilia
Notes on the Cinematographer, Robert Bresson
The Poetics of Space, Gaston Bachelard
Marcel Duchamp, Anne D'harnoncourt, Kynaston McShine
Moominland Midwinter, Tove Jansson
Snow, Orhan Pamuk

Funding Credits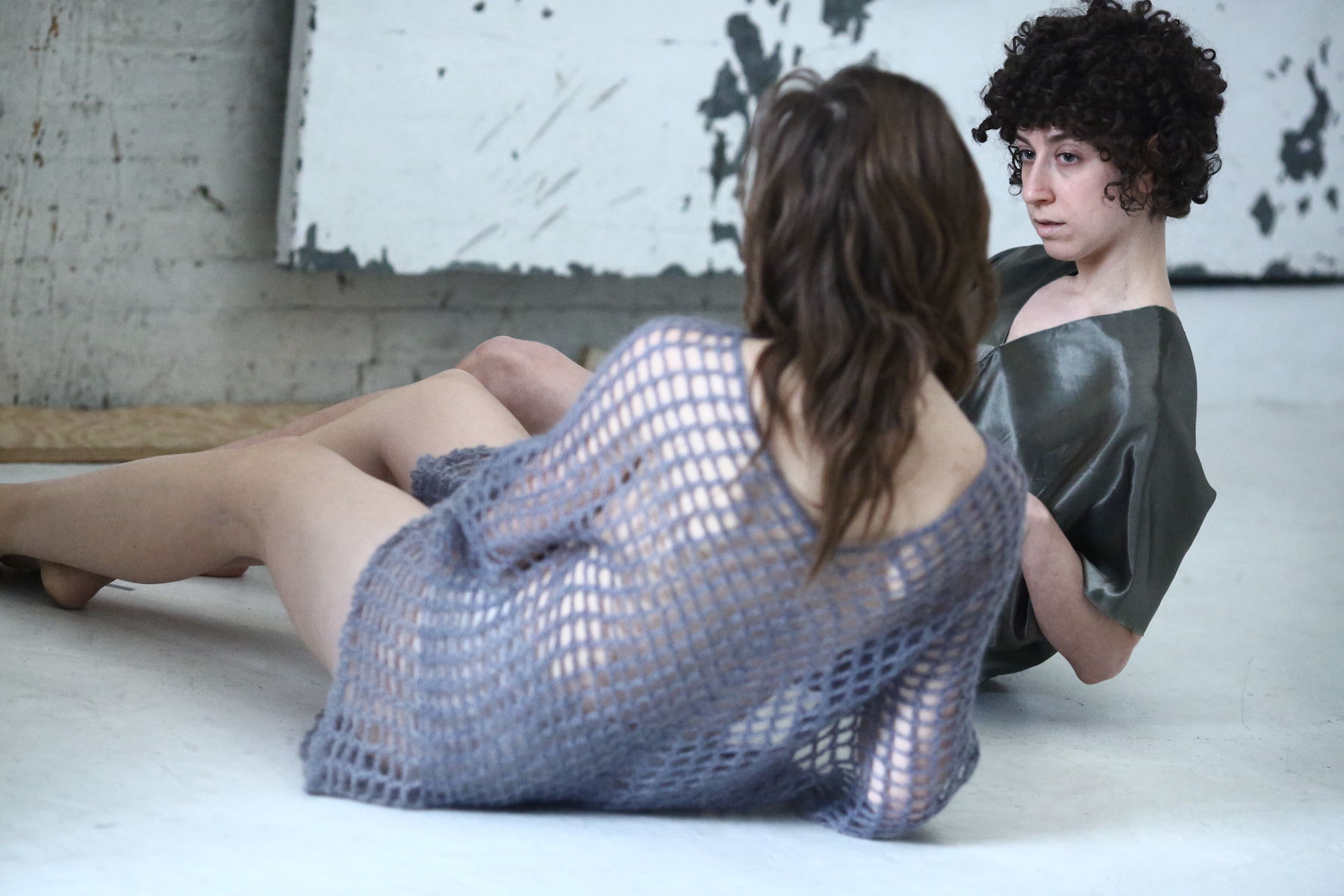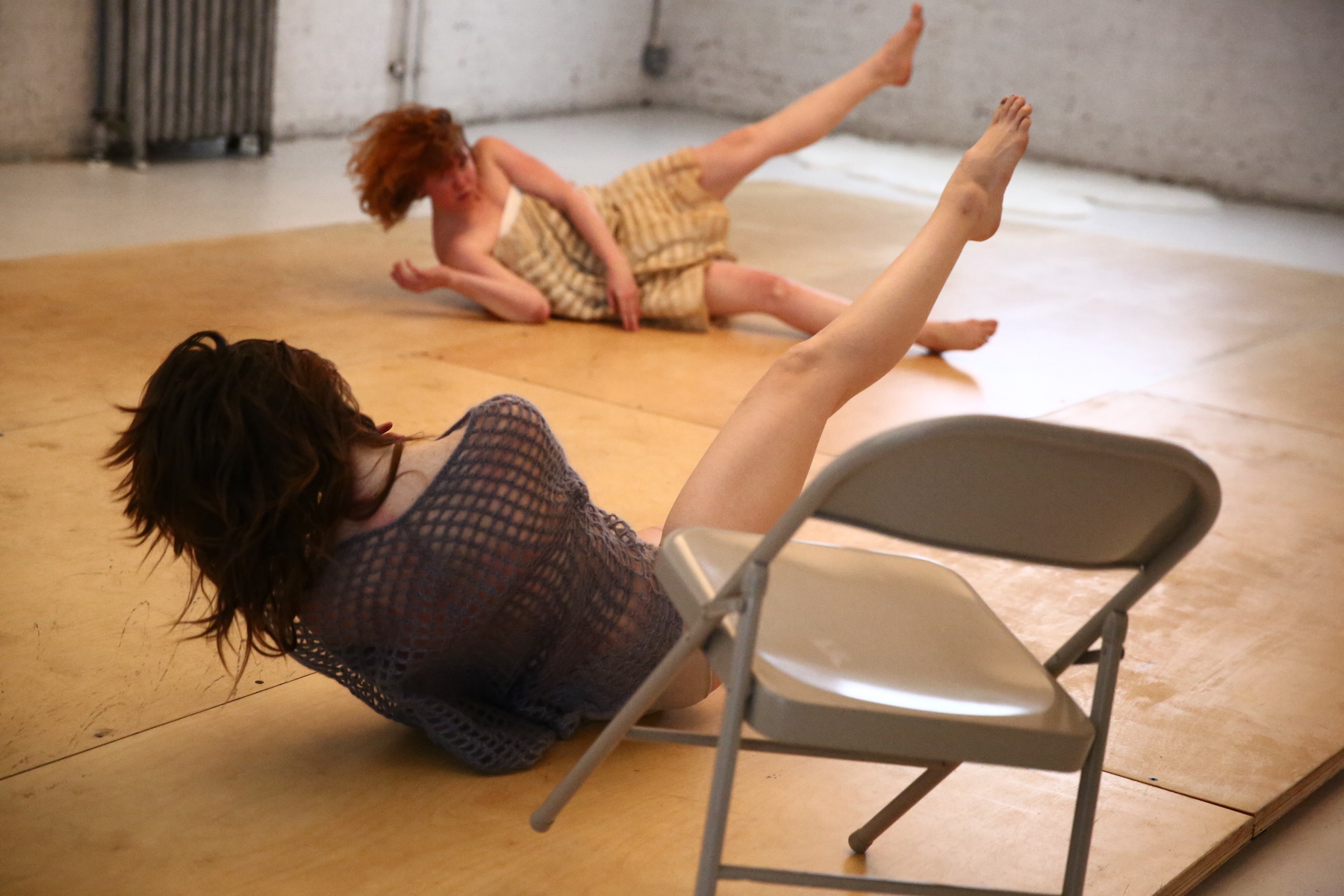 c lo u d, 2018, Chocolate Factory Theater, Queens, NY

photographs: ©Paula Court


c lo u d

Meant for an intimate audience, this evening-length dance takes place in an imagined room — which is continually expanding, contracting, shifting directions, refracted within the actual room. Morphing like clouds, performers and space share a swirling energy. Sometimes the dancers mirror each other; sometimes they are "ordinary people" (under a dark cloud) whose frustration, anger, and sadness propel them toward destructive behavior. Delicate structures often slip out of sync into unruliness, reconfigured through the nudge of a current. These unseen forces extend to the viewers, guiding their physical proximity in relationship to this de-centered work as it progresses…with a heightened sense of sharing the experience.

April 2018, Chocolate Factory Theater, Queens, NY
July 8, 2018, 4pm, Summit Rock, Central Park, New York

Performers: Talya Epstein, Maggie Jones, Melinda Ring, and Rainey White

Through a collaborative process, Talya Epstein, Maggie Jones, Molly Lieber, Kayvon Pourazar and Rainey White's improvisations and impulses are woven into the structure of c lo u d.

Lighting design: Paul Clay
Production Management: Lillie De
Costumes: Melinda Ring
Studio Assistant: Rainey White

read A Code of Clouds, Cori Olinghouse
Video - Gibney DiP Residency Profile
Video - c lo u d excerpt

Funding Credits

Shiny Angles in Angular Time, 2018, Performance Works NW, Portland, OR
photographs: Linda Austin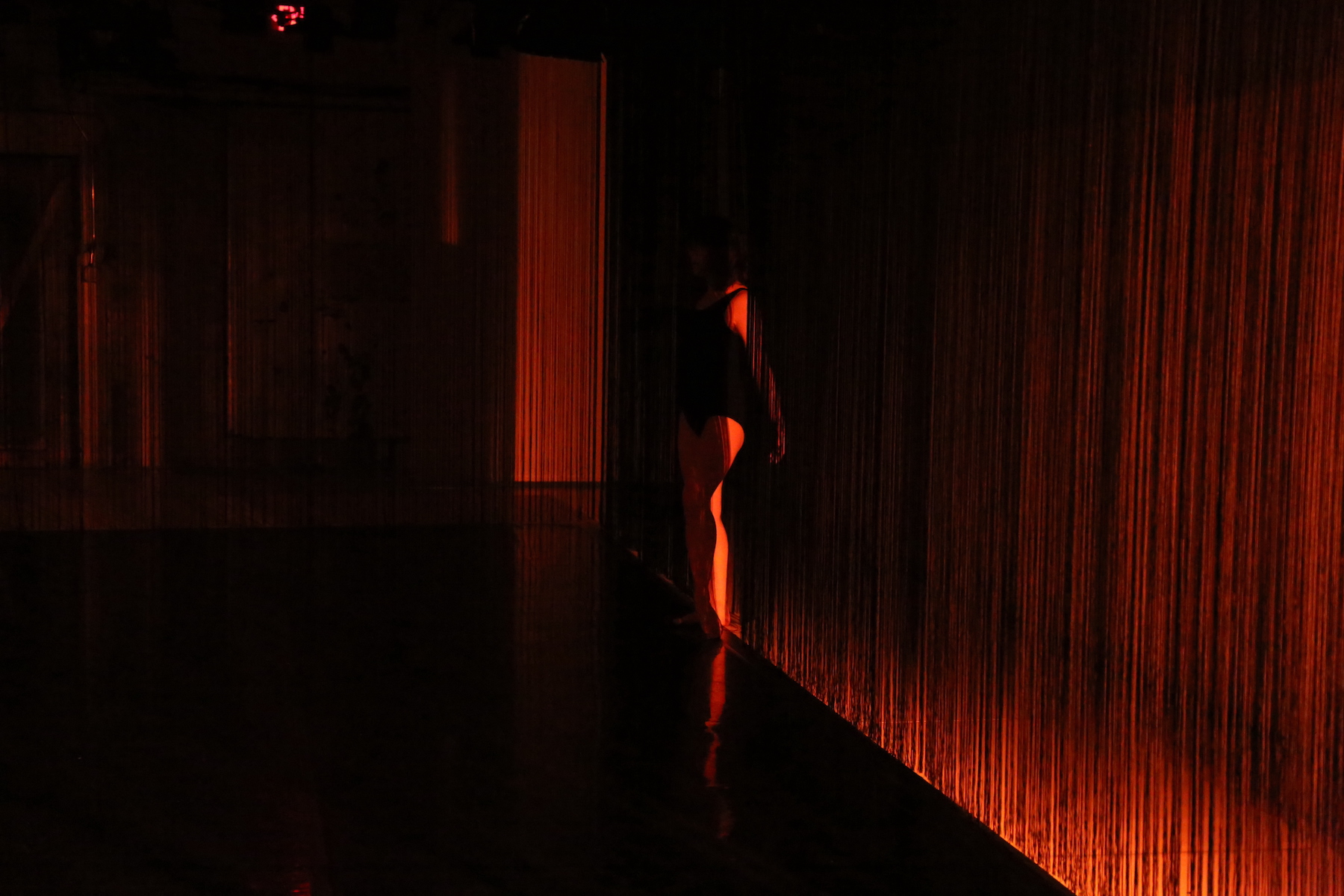 Shiny Angles in Angular Time, 2018, Chocolate Factory Theater, Queens, NY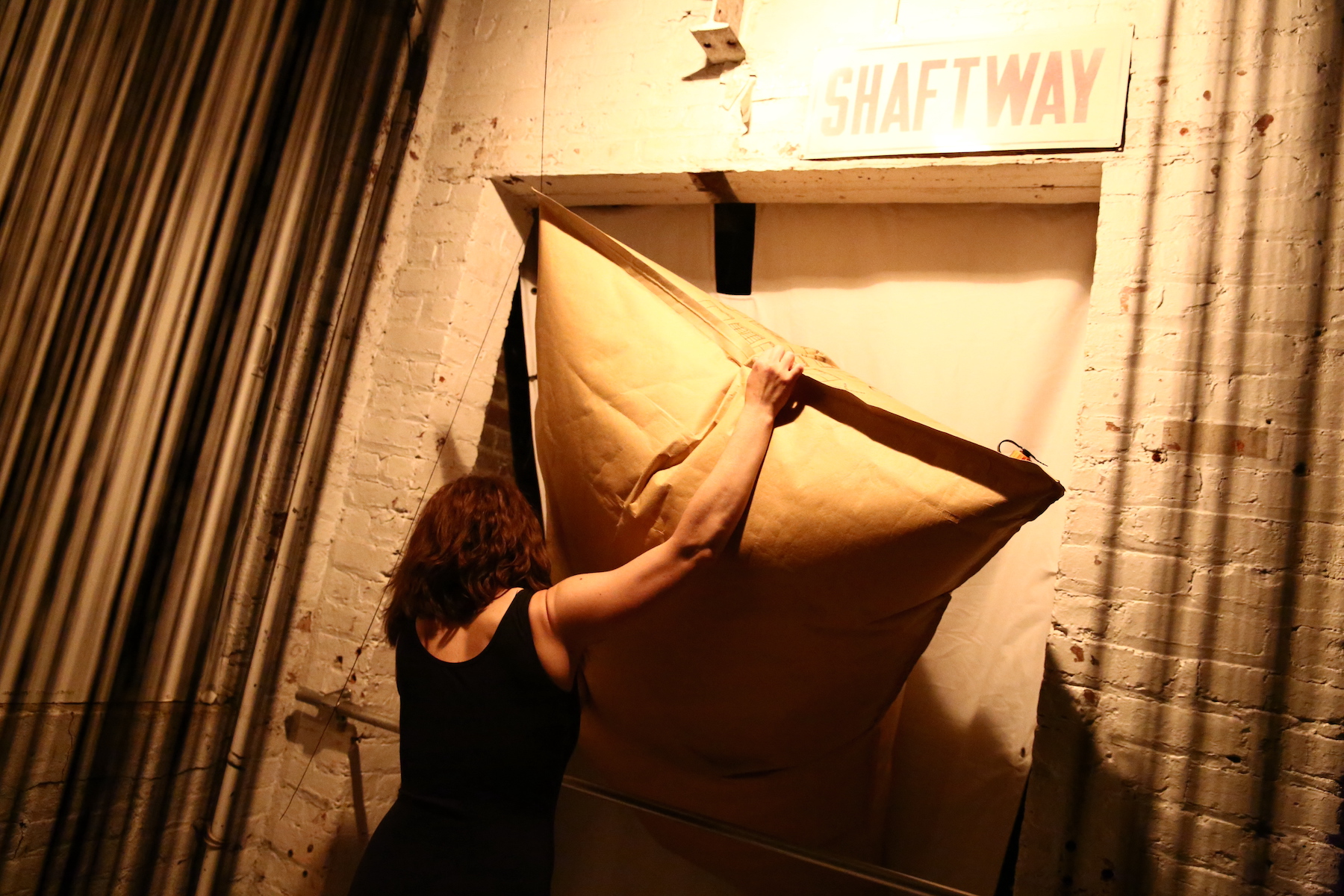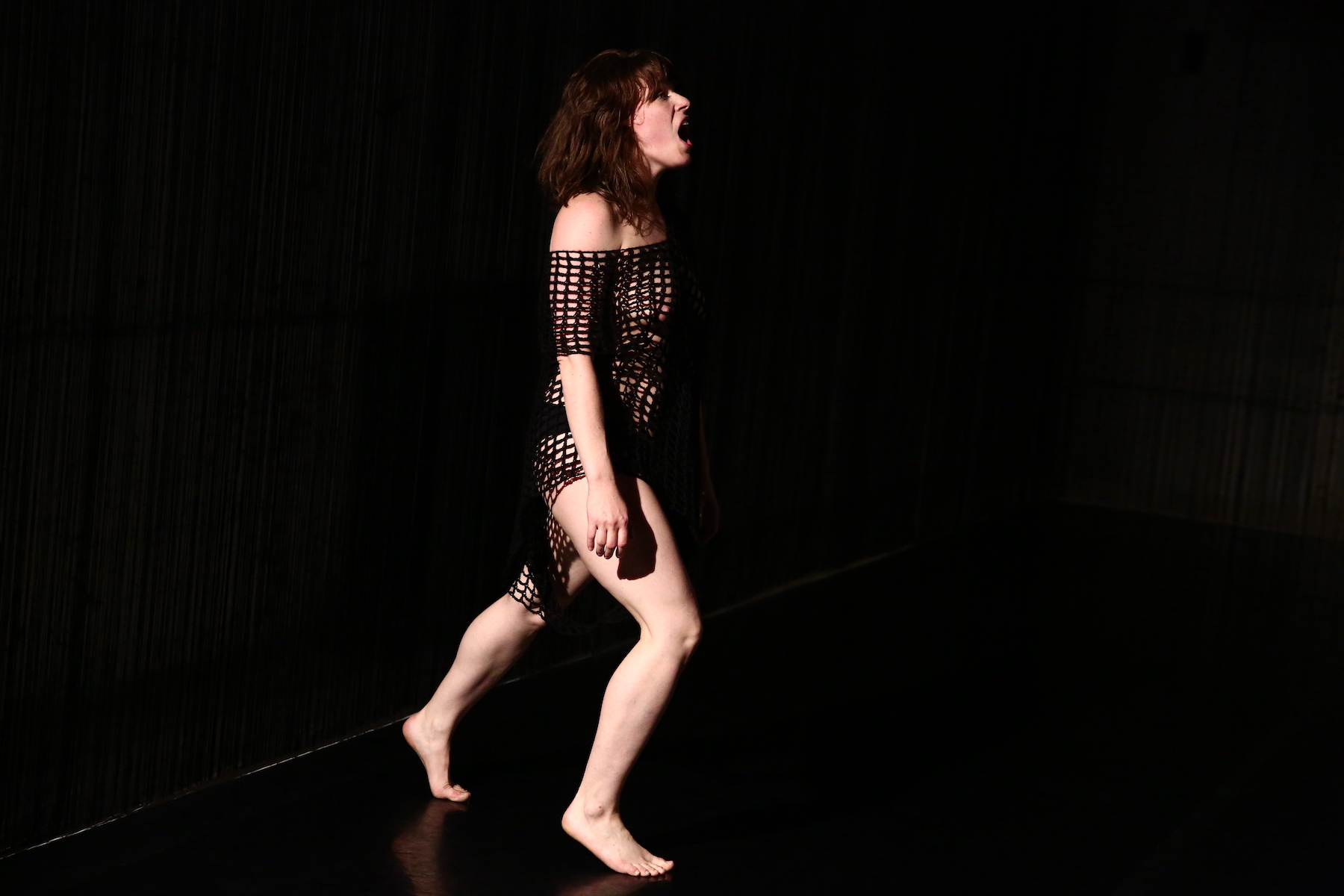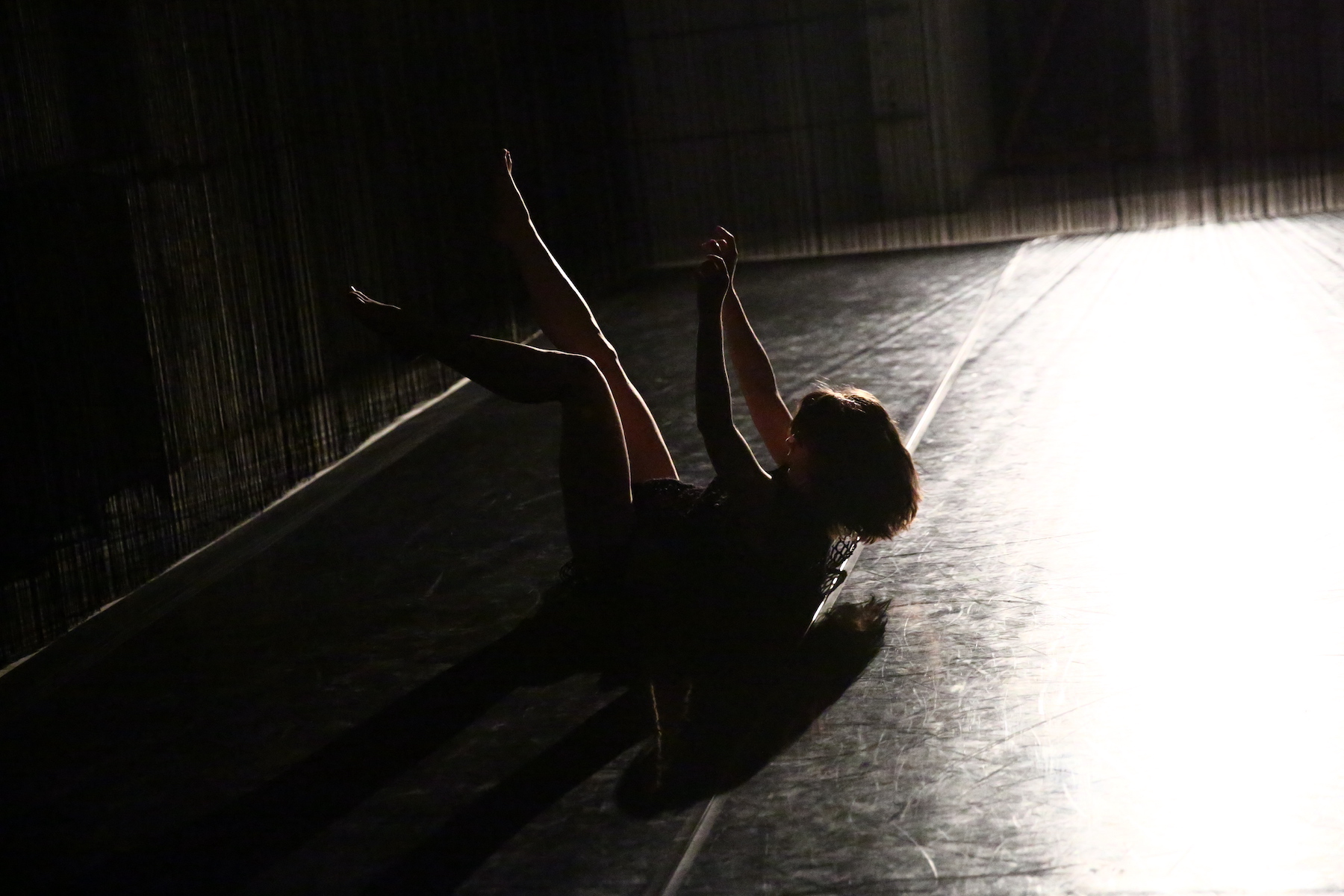 Shiny Angles in Angular Time, 2018, Chocolate Factory Theater, Queens, NY

photographs: ©Paula Court



Shiny Angles in Angular Time — a full-length solo danced by Renée Archibald, made in collaboration with choreographer Melinda Ring—is a dialogue with seen and unseen forces.

The audience is seated at one end of a transparent room within a room, for this work in four reciprocal parts. In each part, in different ways, the performer is in dialogue with the room (the main seen force).

Part two is a fanciful minimalistic reexamination of some of the basic rules of theatrical perspective in which Archibald and Ring ask "how can I act on the space and can the space in turn act upon me?"

If part two is a kind of laboratory, part four is its findings put into action. It is an understatedly virtuosic choreography—that acts to describe shifting parameters, again, in relationship to the volume of the room. Danced without musical accompaniment, the work still attends exquisitely to musicality, as it also attempts to describe the elusive "angular time".

Parts one and three utilize an inflatable rectangular object and projected video.

April 2018, Chocolate Factory Theater, Queens, NY
October 2018, Performance Works NW, Portland, OR

Choreography, Setting and Video: Melinda Ring and Renée Archibald
Performer: Renée Archibald
Lighting: Paul Clay
Costumes: Melinda Ring
Production Management: Lillie De

Funding Credits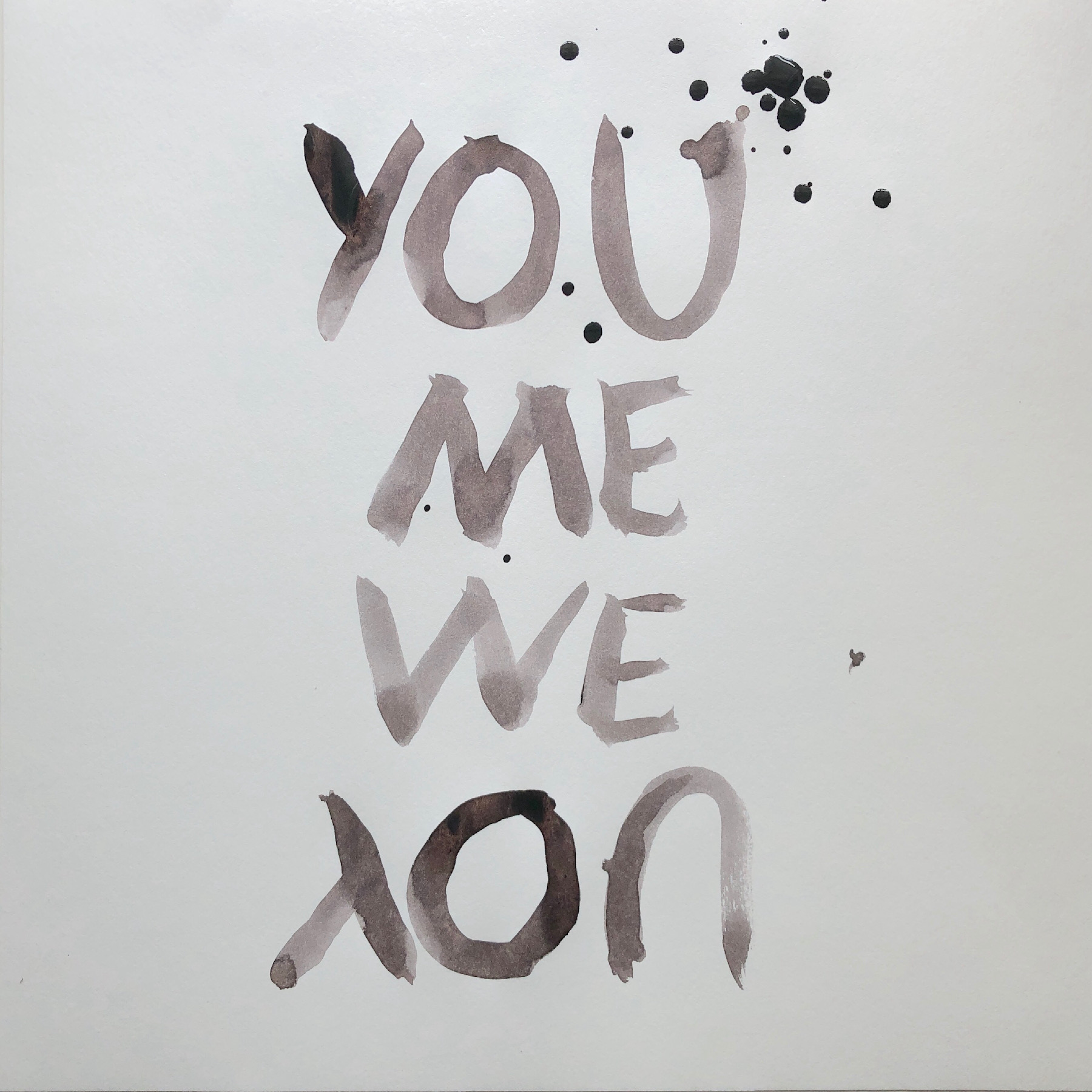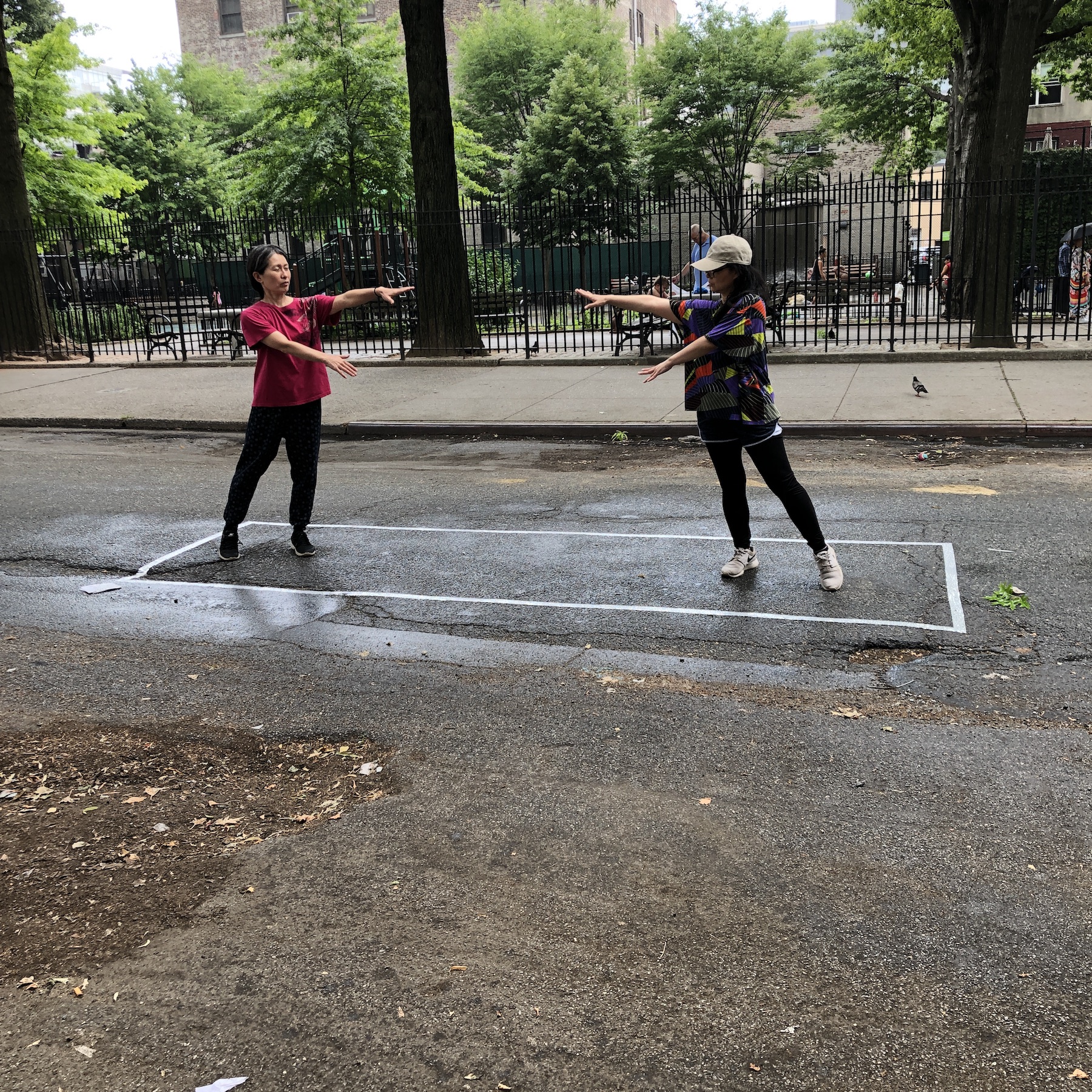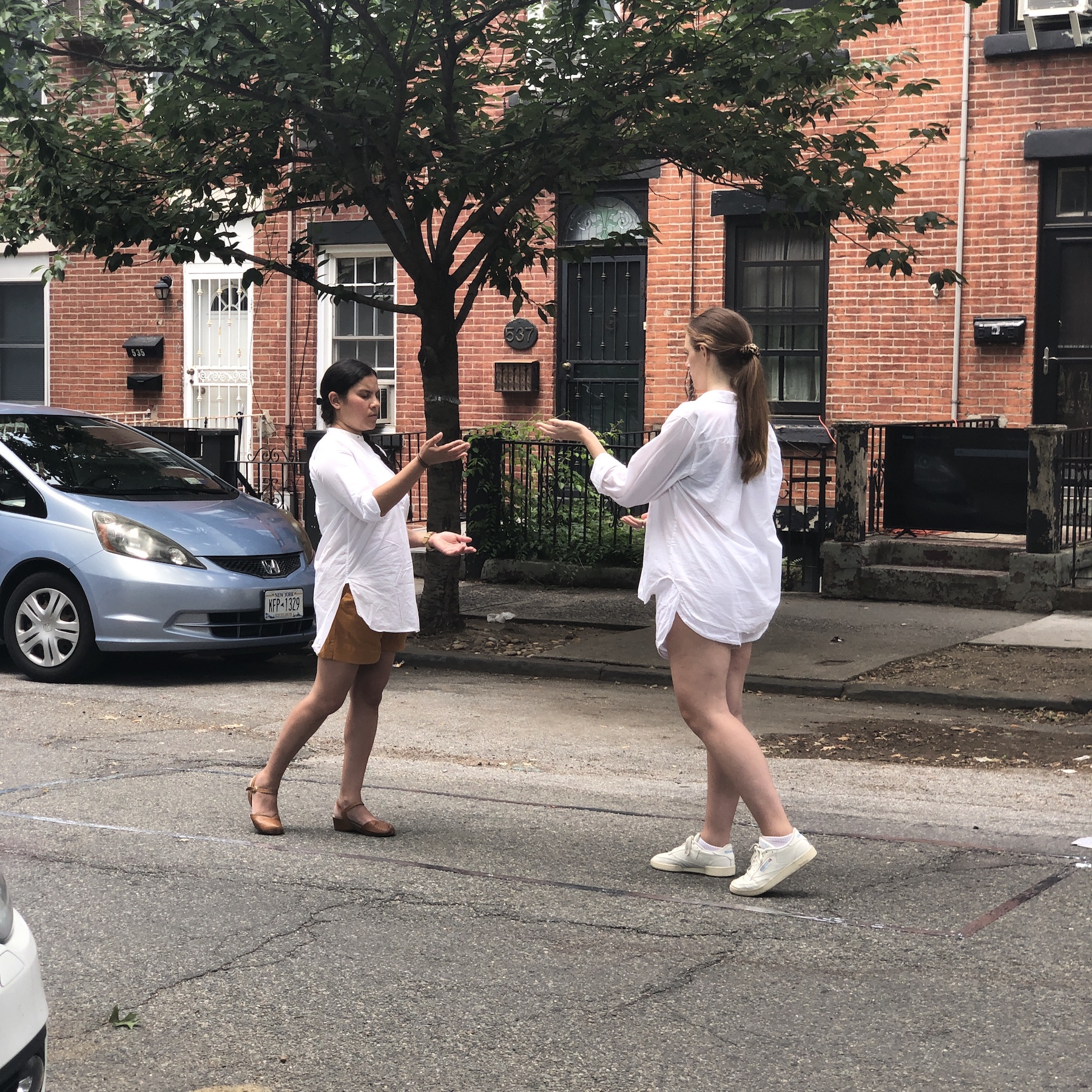 promo & photographs: Melinda Ring


a participatory act of mind-melding — seeing and being each other's mirror image

1. Feel the connection between the soles your feet and the ground beneath you.
2. Attend to your breathing…….then your partner's breathing as well.
3. Merge your partner's with your own, until their breathing becomes your breathing.
4. And a vibratory forcefield connects the two of you.
5. The movement that arises from this situation might be subtle or bold.
6. No one leads and no one follows.
7. You are a Rorschach, a butterfly, two halves of one body...
8. ...you me me you you me me you...

Chocolate Factory Theater, June 2021